FreeFrame Hosts
Details

Category: Support
Last Updated: 09 November 2016
Hits: 7060
VirtualDJ
Written by

Hamageddon
VirtualDJ (Mac/Windows)
https://www.virtualdj.com

DJ Software with additional video support

MP3 and Video mix software.
VirtualDJ internally supports the use of freeframes as video effects.
To use FreeFrames, simply put the FreeFrame DLL file, inside your VideoEffect folder in:
* the VirtualDJ install directory for VirtualDJ v3.4 and VirtualDJ v4.x.
* the VirtualDJ folder located in your "My documents" for VirtualDJ v5.0 and more

Freeframe Support:
video Input : single
parameter support: first eight parameters
Livid Cell DNA
Written by

Hamageddon
Livid Instruments - Cell DNA (Mac/Windows)
http://www.lividinstruments.com/software_celldna.php
live performance software

designed for realtime performance of video, images, and sounds
http://www.lividinstruments.com/software_celldna.php

PC: C:\Program Files\Common Files\FreeFrame
The folder must be called "FreeFrame" and the plugins shouldn't be nested in folders.
You could also try putting the folder in the C:\Program Files\CellDNA\support\ folder, but call the folder of plugins "FreeFramePlugins"

Freeframe Support:
video Input : single
parameter support: first eight parameters
OpenTZT
Written by

Hamageddon
openTZT (Windows) Freeware
http://opentzt.sourceforge.net/

live performance software

is an Open Source VJ tool for the Win32 platform
It allows keyboard or mouse driven video mixing of up to 6 videoclips simultaneously

OpenTZT is able to load FreeFrame plugins.
but the plugins are completely indistinguishable from another in an effect page. Every plugin has the same icon and the plugin name isn't shown.

Freeframe Support:
video Input : single
parameter support: first eight parameters
FFRend2
Written by

Hamageddon
FFrend2 (Windows) - Freeware
http://ffrend.sourceforge.net/

Freeframe host and render engine

FFRend (Freeframe Renderer) is a renderer for Freeframe plugins.
Allows you to chain any number of plugins together, automate their parameters using oscillators,
and record the output to an AVI file.

Freeframe Support:
video Input : multiple
parameter support: full
Elektronika Live
Written by

Hamageddon
Elektronika Live (Windows) Freeware
http://aestesis.eu/elektronika/
live performance software

Elektronika Live is the intuitive free VJ software for visual performers.

Elektronika has a dedicated freeframe module (2D effect)

Download a plugin and place it in elektronika's FreeFrame directory.
It will then be accessible through freeframe module

Freeframe Support:
video Input : single
parameter support: first sixteen parameters
VVVV
Written by

Hamageddon
vvvv (PC) free for non-commerical use

modular environment

vvvv is a general purpose toolkit with a special focus on real-time video synthesis and
programming large media environments with physical interfaces, real-time motion graphics, audio and video

If you have a freeframe.dll just drop it on a patch to create a node
(or put it in the /freeframe folder for it to show up in the nodelist).
http://vvvv.org/documentation/freeframe-and-vvvv


effect Input : single
parameter support: full
Pure Data
Written by

Hamageddon
Pure Data (GNU/Linux/Windows/Mac OSX) Freeware
http://puredata.info/

modular environment

Pure Data (Pd) is a visual programming language
for creating interactive computer music and multimedia works.

Pure Data patches for interfacing to FreeFrame.
https://github.com/goldfish/Pure-Data---Freeframe-Modules


Compiled plugins go into a directory called /plugins
This directory should in same directory as freeframe-modules.pd

effect input : single
parameter support: full
EyesWEB
Written by

Hamageddon
TextMachine 3D
Written by

Hamageddon
TextMachine 3D (PC)
http://www.textmachine3d.com
Live and pre-production software for Visual Artists and VJs

live performance software

Freeframe Support:
video Input : single
parameter support: first eight parameters
Max6
Written by

Hamageddon
AVMixer Pro2
Written by

Hamageddon
VideoLab
Written by

Hamageddon
VJamm
Written by

Hamageddon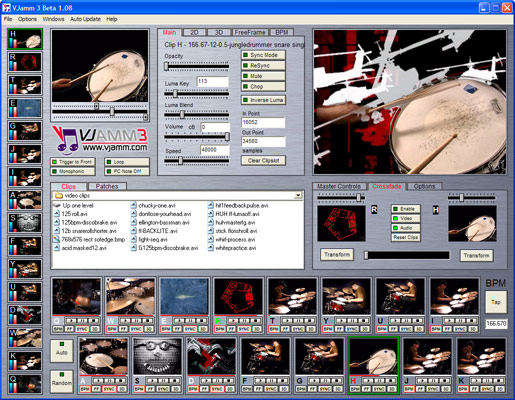 VJamm 3 (PC)

http://www.vjamm.com/ live performance software

realtime a/v mixer with 16 channels
Original native support for FreeFrame live video effects
Standard Edition only support a maximum output
resolution of 384x288 pixel

VJamm FreeFrame plugins should always be in a plugins subfolder of the folder where the VJamm exe is.
http://www.vjamm.com/support_freeframe.php

Freeframe Support:
video Input : single
parameter support: first eight parameters
Isadora
Written by

Hamageddon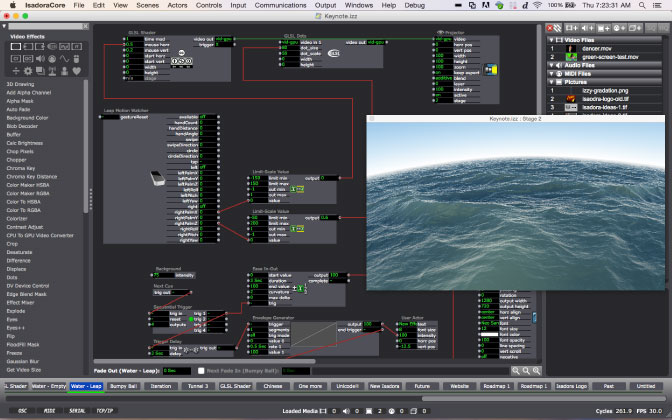 Isadora (Mac/Windows)
http://troikatronix.com/isadora/about/

live performance software
modular environment

real-time media manipulation software to create interactive visuals, sounds, and environments.
http://troikatronix.com/download/freeframeplugins/


video Input : multiple
parameter support: full
VDMX5
Written by

Hamageddon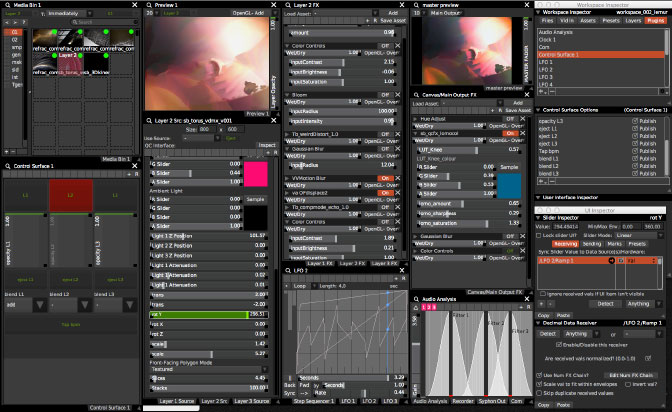 VDMX 5 (Mac)

Realtime video studio for the professional VJ.

live performance software
modular environment

https://vimeo.com/20341475


Correct locations defined by the specification is for the install of FreeFrame plugins are:

/System/Library/Graphics/FreeFrame Plug-Ins

Freeframe Support:
video Input : tbd
parameter support: tbd
Frame Runner
Written by

Hamageddon
Framerunner (Windows)
http://www.frame-runner.co.uk/
After Effects Freeframe Host (32-bit only)

Frame Runner allows you to use video plugins inside After Effects 6.5, 7.0, 8.0 (CS3), and 9.0 (CS4)

Installation:
http://www.frame-runner.co.uk/tutorial/index.php
Supports multi-layer FreeFrame effects
All FreeFrame controls can be keyframed
Freeframe Support:
effect Input : multiple
parameter support: full
Modul8
Written by

Hamageddon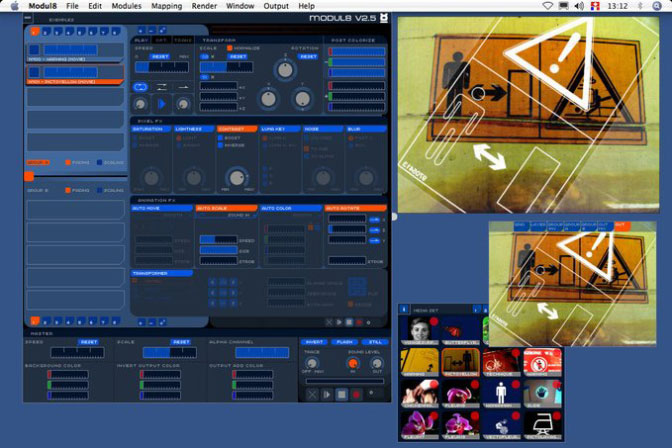 Modul8 (Mac) from GarageCube
http://www.garagecube.com

live performance software

MacOS X application designed for real time video mixing and compositing.

modul8 supports FreeFrames since the version 2.5.0
http://forum.garagecube.com/viewtopic.php?f=2&t=62

Freeframe Support:
video Input : single
parameter support: first eight parameters
VisualJockey
Written by

Hamageddon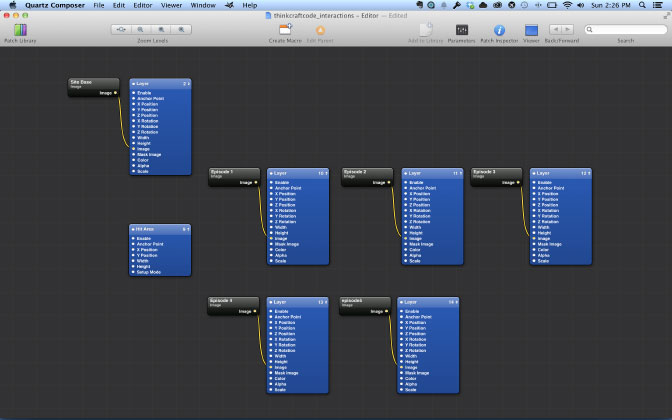 For using FreeFrame plugins in Quartz Composer you can download and use the opensource QC plugin that wraps both FFCPU and FFGL plugins at VVFFGL Download page.
Here's a blogpost with tutorials for how to install plugins for Quartz Composer (with video).
If you are a programmer and/or want to check out the full project/code for the VVFFGL framework for use of FreeFrames on OSX at the VVFFGL project page.
There is also the documentation how to use the framework for programming made with Doxygen at theVidVox site.